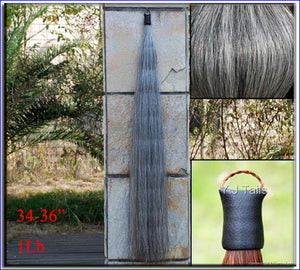 Rubber attachment for the Horse Tail Extension
One of my returning customers Mr. Smith told me, he always uses the rubber attachment, as it is easlier to attach.
I am so happy it can be introduced to you. As I just said before, all the tails are made by hand, also the whole process is a handwork with the real horse hair.
Usually as a customer needs a color, such as the light grey, it is mixed with the black and white, so I need to ask him what the proportion he wants to mix. Some people like our regular mix: black:white=3:7, so I need to choose 30% black and 70% pure white, then mix them symmetrically.
Secondly, I start to make the top. Usually I choose a safe and innoxious glue, to glue the horse hair together, and wait for its dry.
Finally the rubber is sewed around the top by hand. The topside is a braid which is braided with the horse hair.
Below attached this kind light grey for sharing, is it a good process! When you see the horse hair, you will feel the same with me.
---