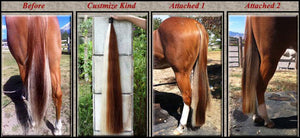 Horse Hair Custom for share
My customer Mrs Duncan purchased a palomino from me, as she thought her horse can be suitable for the palomino color.
Palomino, as you know is the yellow-white color, my palomino horse hair also have this character, his bottom is more yellowish.
At start, I really don't know the color of her horse hair. She order the tail by herself, I didn't have any communication during this time except the confirmation of delivery address. However, after she received the tail, she said:I am very happy with the tail, but it does not match my horse. If you can custom a tail similar with my horse?
I ask her to provide some pictures which are taken in the daylight to me. I just have a look at her horse. It is mixed with two colors which are so obvious, Med Sorrel and Pure White. I help her to make a color just the same as the tail, half med sorrel and half prue white.
When she receive and attach the tail, she told us:It matches perfect! So happy ending for this.
Below enclosed the picture for share.
---